---
Eikenhof will be shaped by the landscape and will become a semi-public area where a vibrant local community of residents and neighbors will live, come together, walk, and enjoy a peaceful life in a lush and natural green environment.
The heart of the community is a central courtyard with a landmark, a pond, and primarily open space that can be used for daily recreation or special events.
On the periphery, a forest-like green strip will surround the area, providing tranquility and privacy. Among car-free routes, small forest paths, and courtyards, 10 compact park villas are perfectly integrated into nature with their staggered volumes, wooden facades, and green terraces. Their physical and environmental impact is minimized to reconnect with nature.
---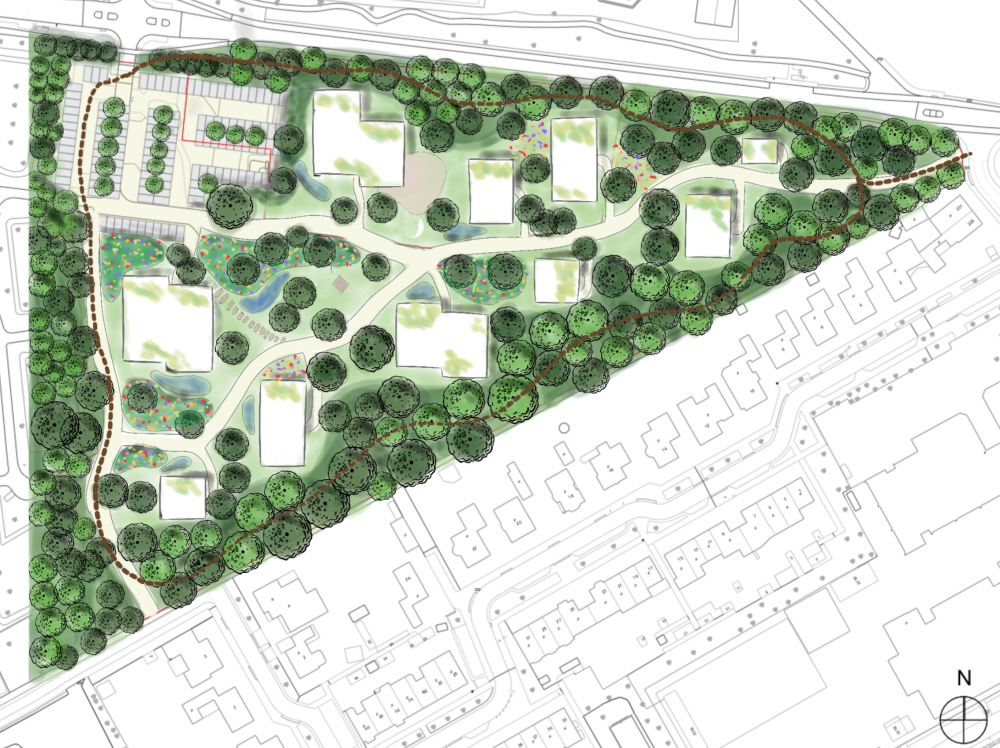 ---
Eikenhof 2 is part of a forested green system that needs to be preserved and enhanced. Our project preserves 95% of the existing trees and will plant more trees and shrubs to restore a "green density" that was lost when the area was designated as an extension of the cemetery. Although the terrain may appear to be an isolated island, pedestrian and cyclist crossings will connect Rijkstraatweg and Kerkweg, as well as Eikvarenweg with Marquettelaan, opening our location to the surroundings.
Eikenhof 2 will serve as a semi-public park for the surrounding neighbors, where they can walk in a lush green environment or participate in community activities.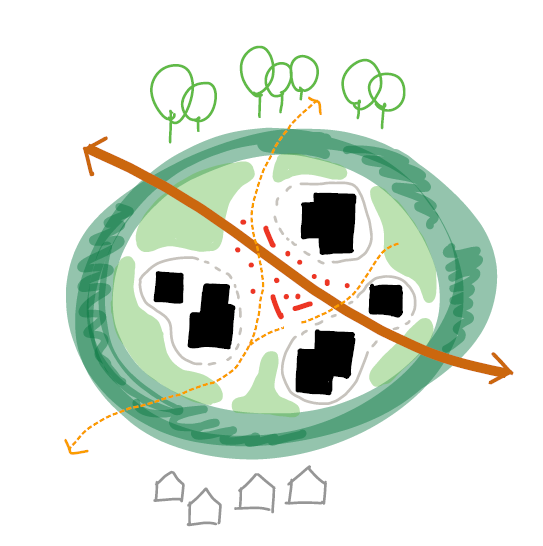 ---
---
---
Buildings will be constructed using circular building methods. Building facades will be clad with natural wood. Window frames can also be made from treated and protected wood that is visible. Behind the facades, we use HSB walls with rockwool insulation. Additionally, we are exploring the possibility of realizing the load-bearing structure with a visible wood structure. The extensive use of wood (1 m³ of wood permanently removes 1 ton of CO2 from the atmosphere) and prefabrication (swift construction and significant reduction of waste materials) ensures that CO2 emissions during the construction process and after the completion of the homes are kept to a minimum.
---
The program is divided into 10 blocks of various sizes and typologies with a total gross floor area (BVO) of 9,460m2. The 89 residential units come in various sizes and typologies, creating maximum diversity in living spaces and a wide range of prices. There are three main types of buildings. Double blocks (A1, B1, and B4) and single blocks (A2, A3, B3, and B6) both have apartments accessible through a central corridor that shares a collective bicycle storage integrated into the volume. The units range from small units with a GFA of 55m2 with 2 rooms, through corner apartments with a GFA of 84m2 with 4 rooms, to larger penthouses with 5+ rooms ranging from 100 to 150m2 GFA. The third building type consists of duplex ground-level homes (B2, B5, and B7) with semi-detached houses with a GFA of 150m2 and a detached house with a GFA of 180m2 (the largest in the plan).
There are no fences or enclosures to divide the outdoor space. On the first (or second) levels, the private outdoor spaces are loggias integrated into the volume to minimize building density and allow the volumes to blend into the greenery. On the upper floor(s), open private terraces and large recessed spaces partially planted with green roofs define the stepped structure of the buildings.
---
---
Heemskerk, 2023 - tender, 2nd place
Housing, 9.460m2 BVO
89 housing units (social rental housing, mid segment and free sector rental and buying homes) from 55m2 to 180m2, communal spaces, non-housing functions
Energy positive, built with circular wooden structure, local and upcycled materials
---
---
---
TEAM
Developer - Zeeman Vastgoed BV
Architects - Time to Access
Landscape - Land of Plenty
---
---
Related pages